On many occasions when I am leading a group, there is always a rather curious type of tourist, which is of course the type of tourist that we like the most at Viadrina Tours. On many occasions the question that is repeated is whether Prague has many parks. Completely understandable question, since tourists usually have an average stay of 3 days in the city so they make the most of it to get to know the most touristy areas. However, they do not have time to learn so much about the common life of the inhabitants of Prague and where they usually frequent.
I know you are that type of curious tourist and you came here, so I will give you a list of the best parks in Prague and outdoor activities that I am sure you will love.
Prague is a city with many green areas, that is why the distances are usually long despite not being a city compared to other European capitals such as Paris, London or Madrid. Prague residents enjoy these parks, due to the fairly clean air quality.
Feel the opportunity to lose yourself (some parks are gigantic) and enjoy the natural environment outside the crowded and tourist areas.
1. Parque Letná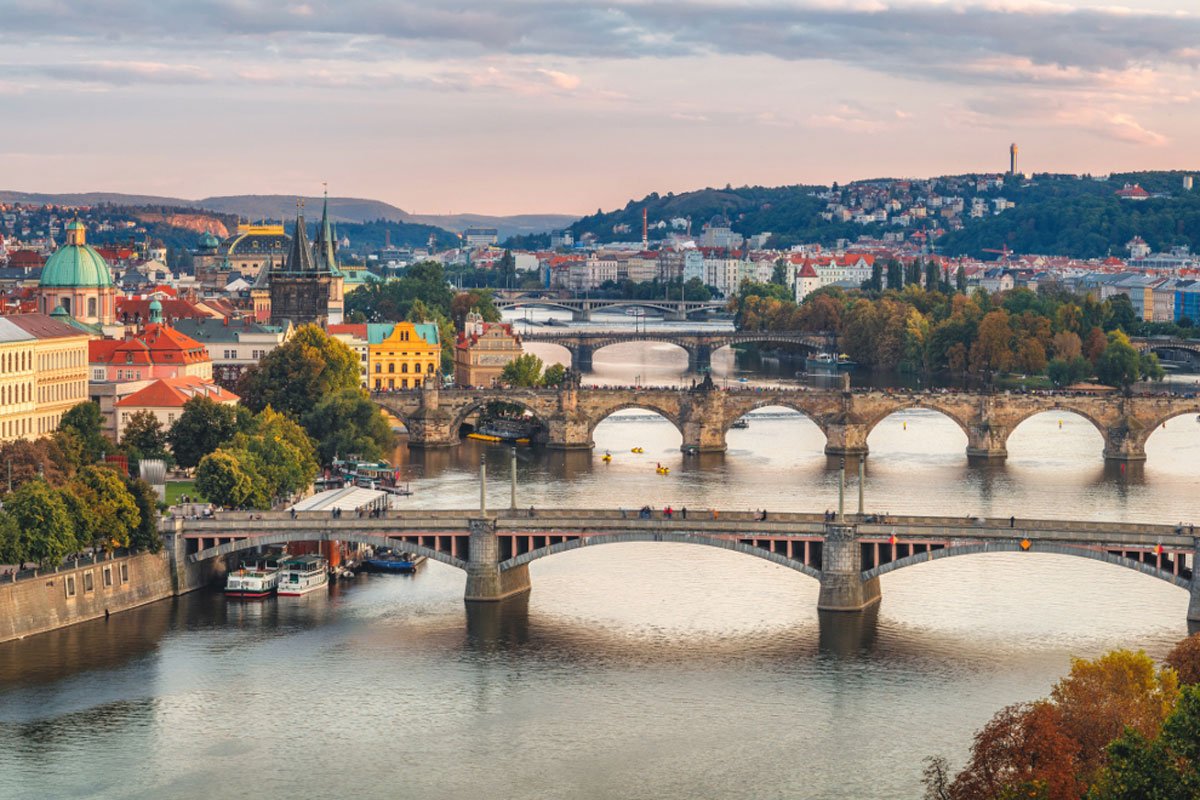 Yes, this impressive sunset that you are seeing in the image is from Letná park. To start this list of best parks and outdoor activities in Prague, we mention one of its most popular parks. Also known as the Metronome Park, it is located in the Prague 7 district. Separated by just a bridge, from the central Stare Mesto and Josefov (Jewish quarter) districts.
It is also called the Metronome Park because it is where this device is located to measure musical time. Commanded by a large orange-red needle that moves from one side to the other. It was built in 1991 and symbolizes the transition from communism to capitalism.
Where the metronome is erected, there was an old statue of Stalin, removed in 1962 after Khrushchev's criticism of the cult of personality.
This park was also famous because during the protests of 1989 in the Velvet Revolution, there were the highest concentrations, reaching between 750,000 and 1,000,000 people in one.
In the park there is a bar called Stalin where you can order a beer and sit and see the incredible views of Prague. On Friday nights they usually have a youth party with techno music.
As a curiosity to say that Michael Jackson congregated in this park more than 120,000 people.
If you prefer to be calm walking towards the East you will find dozens of wooden tables where you can sit and enjoy a drink in the bar next door. Both in this area and in the metronome part you will be able to enjoy a beautiful sunset, only if the capricious Prague weather allows it.
2. Riegrovy Sady
Riegrovy Sady Park is located in the Prague 2 district in Vinohrady and borders the popular Zizkov district. It is a large natural area in which if the weather is good you will see that there are hundreds of people, reading, running or simply enjoying a conversation with beautiful views that reach the Prague Castle.
There are several bars within the park to have a snack if you feel like it.
3. Ice skating
If it so happens that your visit to Prague has coincided with the winter season and low temperatures, don't worry, here we propose a plan to do.
Like almost any European capital, it has its typical ice skating rinks. The main difference is that in Prague you will be skating seeing any of the typical monuments of the city such as: the Charles Bridge, the Astronomical Clock or the Prague Castle. The activity does not usually have a fixed point but rather rotates so there is no fixed location that we can recommend.
It is free and we advise you to bring a camera as you will have some spectacular photos.
4. Boat trip on the Vltava river
This activity is more recommended for the summer or summer season. However, a boat trip through Prague passing under the Charles Bridge is something magical at any time of the year.
There are different companies that offer this service and with different combinations.
For example, you can find the unique tour service or you can find that there is also a tasting of Czech craft beers or it is simply the boat trip with a party.
A normal 1 hour boat trip should not cost more than 500 CZK per person or 20 euros. It is important to also bring a camera and suitable clothing depending on the season you have decided to travel to.
5. Naplavka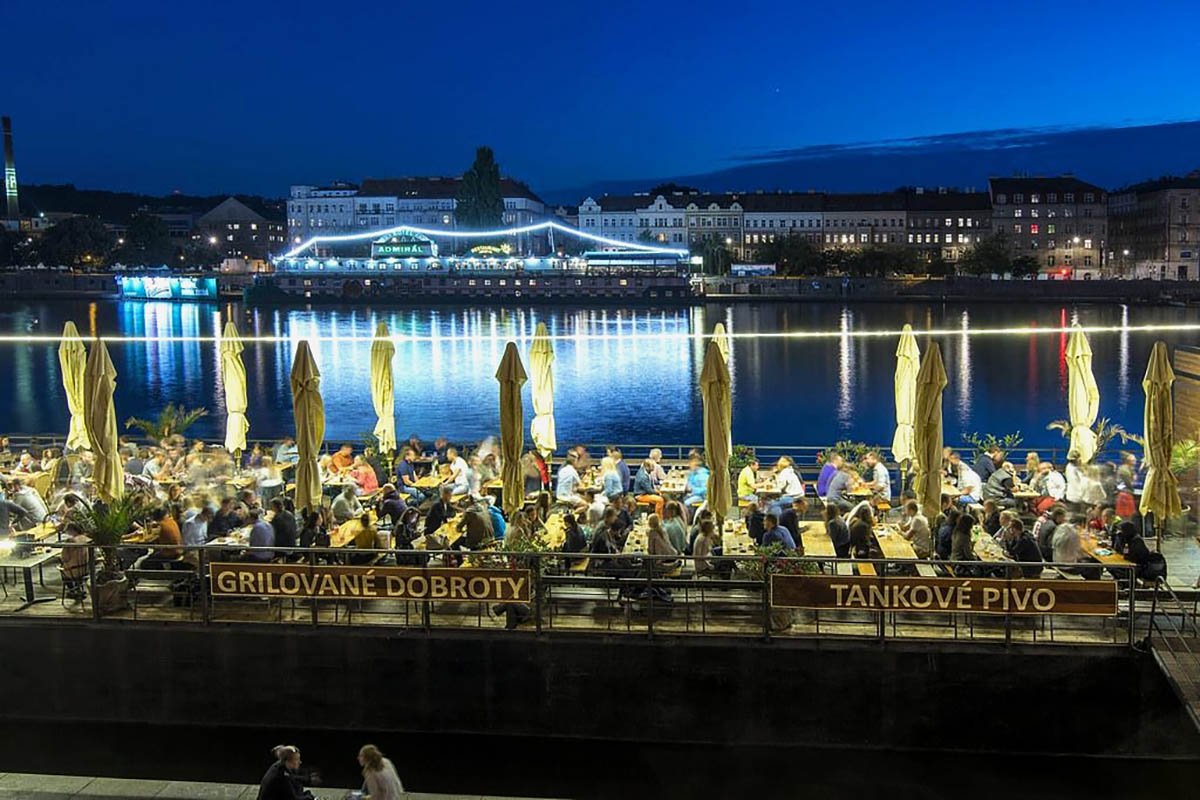 Naplavka is an area that is located on the river bank, basically it is a cement walk (in the absence of a seafront…). In this place, the youth and especially students who are going to have a few beers after leaving the university tend to concentrate. The promenade has different bars that are outdoors and whose beer is quite cheap for the place where it is located.
There you can have a beer while enjoying a sunset and a good conversation with the Vltava River at your feet.
6. Divoka Sarka hiking trail
On the eastern outskirts of Prague, there is a gigantic park called Divoka Sarka. In it, you can take advantage of a hiking route on one of the days that you are in the Czech capital.
Best of all, you can get there by public transport from the center:
From Wenceslas Square you can get to the place in 30 minutes.
Metro line A in Mustek to Nadrazi Velaslavin and then a bus line 119 in Nadrazi Velaslavin to Divoka Sarka.
Metro line A in Mustek to Dejvicka and then tram line 26 from Vitezne Namesti to Divoka Sarka.
7. Stromovka Park
Stromovka is a huge park that is located north of Prague specifically in the 7th district.
In this park you can stroll through endless paths that intertwine and create hiking circuits. Within the same park there is also a bar. With tables and a stage, locals usually gather to enjoy music in the open air or even dance, since it is a possible place where salsa and bachata are danced in summer.
At the beginning of this park you will find an imposing building with a large garden. Be careful, as it is the Russian embassy in the Czech Republic.
8. Botanical garden of Prague
The Prague Botanical Garden is located in the north of the city adjacent to the municipal zoo. It is located on Mount Troja, also very close to the famous Troja palace.
It has more than 30 hectares to enjoy if you are passionate about nature. It has a vineyard and a Japanese garden that is the main attraction of the garden.
Admission is only 100 CZK (4 euros).
To get there you must take Line C of the metro in Muzeum and go to Nadrazi Holesovice. From there, take bus line 112 and get off at the Zoologicka Zahrada stop.
On reaching this point, as I know you are a restless tourist, despite the fact that we agreed on 8 parks and outdoor activities, I am going to recommend one last activity as a bonus so that you can enjoy it too.
BONUS:
In summer, especially in different parts of the city, open air markets with different themes are usually put on.
One of the places where you will find this type of market is in JZP or Jiriho z Podebrad. There you can see and taste food from many places as well as having typical Czech food.
It is very easy to get to from the centre.
Walking would only be about 25 min from Wenceslas Square since you would have to go through the entire Vinohrady neighbourhood.
If you don't want to walk for any reason:
You can take the green metro line (A), in Muzeum or Mustek and go to Jiriho z Podebrad. In the same metro station is the square with the market, a few meters from the imposing television tower.