In this guide to the best Polish music we are going to mention the main artists of the contemporary scene. Through the best known musicians, we can discover this part of Polish culture. We hope of course that some of our suggestions will also end up on your own playlist. We start! In addition, we include our own playlist.
1. Taco Hemingway
Rap/hip-hop
Certainly, one of the biggest artists on the scene is Taco Hemingway. With a laid-back style, super catchy beats and powerful rhymes, this artist has earned a prominent place on the Polish Hip-Hop and Trap stages. From nostalgic melodies to rhythmic fusions or simply an adventurous freestyle, in our playlist, there must be at least one song by Fifi.
2. Mela Koteluk
Pop
Words are missing to describe the talent of this singer. Mela Koteluk has revolutionized the Polish music scene in recent years with an incredible vocal range and impeccable musical arrangements. The lyrics of his songs tell us about love, heartbreak, fantasy, reunions and much more.
3. Dawid Podsiadło
Pop/Rock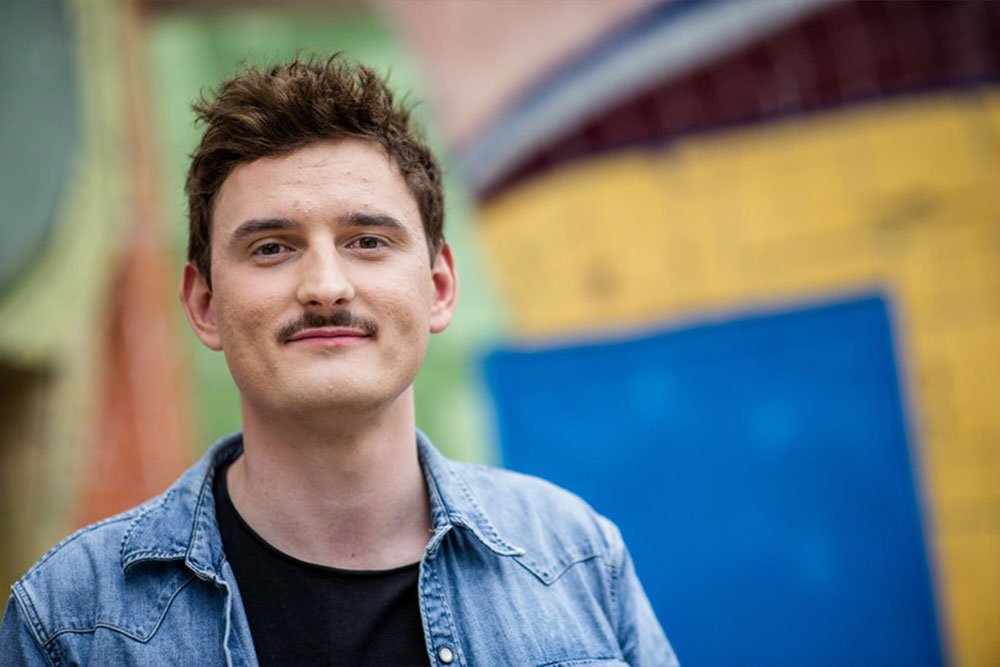 Winner of X-Factor in 2012, Dawid Podsiadło is one of the most important artists in the country. Thanks to super original melodies and beats that will resonate in your head, with simple lyrics, he is our recommended artist to start in the Polish musical world. His 2015 solo album Annoyance and Disappointment shot him to fame entirely. Subsequently, he takes part in Męskie Granie, the annual festival where the most important artists of the year come together in a 2-day recital.
4. Natalia Przybysz
Pop/Blues
Continuing our list of the best Polish music, Natalia Przybysz is an impossible name to miss. Originally from Warsaw, this artist was one of the founders of the Sistars group. However, the group was not very successful, so Natu began his solo career in 2008 with the album Maupka Comes Home.
In 2013, she released her third album, Kozmic Blues: Tribute to Janis Joplin with songs dedicated to Janis Joplin which inserted her into the world of Rythm and Blues. Thus beginning a rapid rise in the main Polish charts. Recommended.
5. Fisz Emade Tworzywo
Alternative/hip-hop

Duo originally from Warsaw, founded by Bartosz Waglewski (Fisz) and Piotr Waglewski (Emade). Difficult group to pigeonhole into a single genre since they fuse many musical styles. From Hip-Hop, with incredible Riffs, to song-folk-techno, this duo will accompany your day with more than one song. One of our favourites.
6. Mjut
Indie Rock
Sixth place on our list of the best Polish music, we are going to give way to a revelation band, Mjut. Originally from the Baltic shores, this Indie Rock band began their musical career in 2012. With three studio albums, influenced by bands like Oasis, Blur and Talking Heads, it promises to be a group that will possibly expand its borders. For that reason, we are going to closely follow this group that in the meantime, we leave our favourite songs to start your day with a lot of energy.
7. Sanah
Pop
Varying our list, we also include Sanah. With more than 1 million subscribers on YouTube, this young artist has earned an important place in the Pop local scene. With romantic songs, rhythms very well arranged with string instruments, Sanah is a different proposal. Undoubtedly, at least one song will be found on your Polish songs playlist.
8. Pezet
Rap
It's funny how some languages ​​combine perfectly with musical rhythms. For instance, Rock with the English language or in this case the Polish language and Rap. One of the greatest exponents of the genre in Poland is Paweł Kapliński better known as Pezet. He began his artistic career in 1998 debuting in the group Płomień 81 with which he edited three albums. He has done many collaborations with other artists, many on this list. With appearances on TV, YouTube, radio and more, his name is synonymous with Rap.
9. Brodka
Pop/Electro-pop
In ninth place, we find this young singer, songwriter and guitarist. Mónika Brodka (Brodka) has revolutionized the charts in recent years with electro-pop tracks, along with various DJs such as Kamp! Combined with more melodic songs, Brodka's music can be the perfect company for your trips, work or meetings with friends. In summary, this wonderful Polish artist is worth discovering.
Our Playlist
In conclusion, we wanted to end this list by sharing with you some songs by the artists in this article and also we've prepared our list on Spotify and YouTube music. Above all, it's worth giving them a chance and maybe who knows … one day you'll end up in Poland at a recital by your favourite Polish artist (personal experience: D)
Deszcz na betonie – Taco Hemingway
Świat jest WFem – Taco Hemingway
Następna stacja – Taco Hemingway
Głupi byt – Taco Hemingway
Melodia ulotna – Mela Koteluk
Odprowadź – Mela Koteluk
Żurawie origami – Mela Koteluk
W dobrą stronę – Dawid Podsiadło
Pastempomat – Dawid Podsiadło
Nieznajomy – Dawid Podsiadło
Trofea – Dawid Podsiadło
Małomiasteczkowy – Dawid Podsiadło
Dzieci malarzy – Natalia Przybysz
Miód – Natalia Przybysz
Niebieski – Natalia Przybysz
Światło nocne – Natalia Przybysz
Dwa ognie – Fisz Emade Tworzywo
Ślady – Fisz Emade Tworzywo
Jestem w niebie – Fisz Emade Tworzywo
Telefon – Fisz Emade Tworzywo
Szampan – Sanah
Ale Jazz! – Sanah y Vito Bambino
Ten Stan – Sanah
Na cały świat – Pezet
Nisko jest niebo – Pezet ft. Kayah
Piroman – Pezet
Re-fleksje – Pezet
Dancing shoes (Kamp! remix) – Brodka
Żar – Pro8l3m y Brodka
Granda – Brodka